TRAYM production est une entreprise de création de vidéo, photographie, graphisme/illustration et de design sonore dirigée par Joé Bocaccio.
TRAYM production is a video, photography, graphic/illustration and sound design company directed by Joé Bocaccio.
Basé en Occitanie & Rhône-Alpes, travaille
contact@traymproduction.com
Joé Bocaccio est un artiste passionné originaire du Vercors (Fr.)
Sa passion pour l'art et la création, naturelle et dévorante, se dévoilait très tôt. Tout petit déjà, il passait plus de temps à gratter des feuilles de papier plutôt qu'à s'adonner à d'autres jeux d'éveil ou de construction.
Il plonge dans le monde de la vidéo à l'âge de 9 ans, curieux d'assembler des plans les uns à la suite les autres pour former des petites scènes avec son frère ou des amis sportifs. En 2007, à 13 ans, il crée « TRAYM », initialement un blog sur lequel il partage régulièrement ses créations : Photos et vidéos de sports de glisse, de paysages et de la vie de tous les jours, dessins, créations musicales… Participant à différents concours internationaux (cf. 'Palmarès'), sa « patte » fut remarquée et rapidement sollicitée pour promouvoir associations et évènements locaux.
| « Créer de l'image et du son, c'est ma manière de fonctionner, un mode de vie et d'expression, d'interpréter ce qui m'entoure. Indissociable à cet épanouissement, le partage est mon moteur : Sentir qu'il stimule parfois certaines sensibilités, transmet une émotion ou une idée par les sens et non par les mots. Je souhaite saisir chaque occasion de collaborer, partager au travers de ces domaines, ayant à cœur d'offrir le meilleur de mes compétences aux personnes qui m'ont fait, me font et me feront confiance. »
Toujours aussi animé de ses passions, Joé créera son entreprise de production dès l'âge de 18 ans.
Plus les années passent, et plus ses différentes expériences par la création tous supports élargiront la palette de choix à l'élaboration de ses prestations. Basée sur cette essence polyvalente, TRAYM production propose aujourd'hui des solutions sur mesure et adaptées à votre budget pour réaliser vos projets créatifs et de communication. Considérant une importance capitale à chaque détail du processus, nous allions à la demande réalisation vidéo (cadrage, montage, motion design, sound design…) infographie/illustration (motion design, fond vert, création de visuels, enseignes…), ainsi que design sonore et composition/adaptation musicale, en formule ou bien à la carte !
Joé Bocaccio is a passionate artist from the Vercors (French Alps).
His overwhelming passion for art and creativity started at a very young age. In kindergarten he would choose drawing over other educational activities.
At the age of 9, he plunged into the world of video, curious to assemble clips in order to create scenes, with the help of his brother and sporting friends. In 2007 at the age of 13, he created  » TRAYM «  intially a blog to share his home-made production of sliding sports, footage of everyday life, designs and musical creations… His participation in different international contests enabled him to get noticed and his unique thumbprint recognized. Soon he was asked to cover local charities and events. 
|  » Creating image and sound is my way of functioning, my way of life, of expression, how I interpret the world in which we live.  Inseparable with this growth, the sense of sharing is my drive ; to know it has the power to stimulate certain sensibilities, create an emotion or inspire. I wish to seize every opportunity to collaborate, share through these areas, to offer from my heart the best of myself and my skills, to the people who trusted me then, now and in the futur. « 
Still driven by his passion, he created his own enterprise at the age of 18.
As time passed and with different experiences of creativity helped to widen his presentation skills in video editing.  From this versatile approach, TRAYM production now offers tailor-made solutions adapted to your budget to carry out your creative and communication projects. Considering the importance of every detail of the process, we can combine video production (filming, editing, motion design, sound design…) infographics/illustration (motion design, chroma keying, visual creations, graphic designs…) as well as sound design and musical composition/adaptation, all according to your request.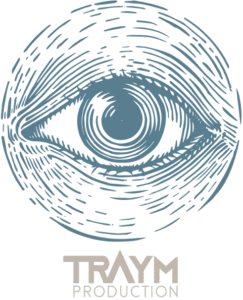 Un renseignement, une demande de devis, une idée de collaboration, ou juste envie de dire bonjour ? ツ
Needing an information, a project cost estimate, having an idea of collaboration, or just want to say hello ? ツ Let's get in touch !
Entre 2008 et 2014, Joé se présente à différents concours et festivals de réalisation, parmi ceux-ci : 
From 2008 and 2014, Joé presented his work at different events and festivals such as :
2ème prix

| Nike ACG SWEETSPOT X SKIPASS – 2008

3ème prix | Rossignol 100 purs moments de montagne – 2008
Prix du public | Festival international du film de montagne 2008 – Bobines de l'extême
Premier prix | Festival international du film de montagne 2009 – Bobines de l'extême
Prix du jury | EGUG Vidéo Awards 2009
Prix du montage | « AWESOME ! » – EGUG Vidéo Awards 2010
106ème/1091 | NIKON Film Festival 2014